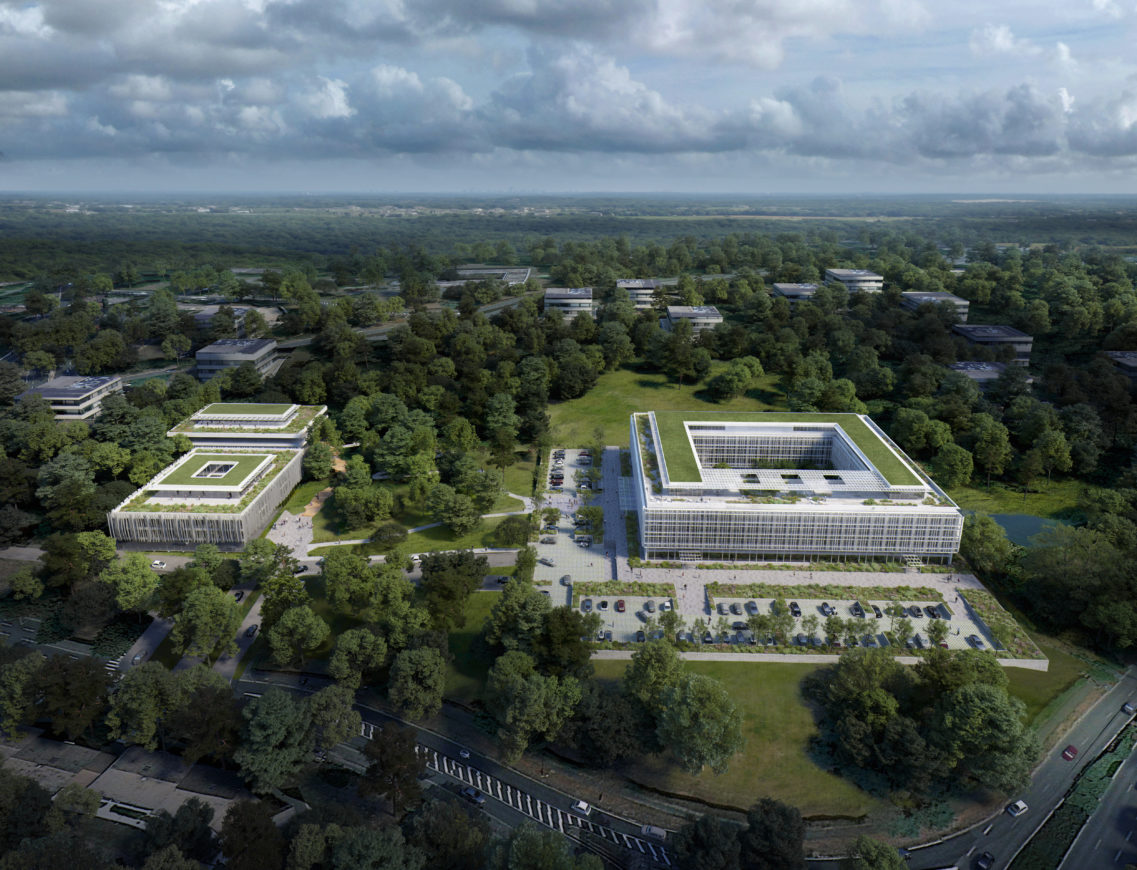 New Air - AKKA Technologies Campus, Rocquencourt
The AKKA Technologies group, one of the leading European operators in the engineering and technologies sector with a workforce of 16,300, had set up its business campus in a 13,000 square metre building designed by Jean Dubuisson, located within a park that rubs shoulders with the Château de Versailles in Rocquencourt. For this operation, Dubuisson was accompanied by renowned real estate developer Cardinal. Having once been the headquarters of Mercedes France, this building embodies Jean Dubuisson's functional architectural style, and required a complete renovation and redesign in order to facilitate the work of the various project teams throughout the campus.
Our client wanted to preserve the original architecture and facades, notably including the aluminium mesh that created the building's signature look, while also creating a new interior feel that could galvanise the Group's start-up mindset, with flexible and mobile project platforms and a sort of "concierge unit" of adjacent services to facilitate the work and daily lives of its staff. We therefore decided to completely renovate the aluminium cladding, and to carry out a full redesign of the surroundings and interior spaces. We start by opening up the roof areas, and also creating platforms within the floors, unveiling innovative layouts and original partitions. Next, taking the renovation further, we excavate a portion of the inner courtyard, and top it with a glass lens patterned with the same curved mesh as used on the facades.
Following on from the Maison LVMH, this is our second project involving the renovation of a building originally designed by Jean Dubuisson. Where should the needle fall on the scale between an identical restoration and a full-fledged redesign of the original? In each of these projects we positioned it somewhat differently, based on our client's requirements and the final modes of use, but in both cases we incorporated the existing design into our recreation. Whether this would lead to a reinterpretation – as was the case with the Foundation, where the original cladding is echoed in the mesh under the double-skin façade - or an interconnected design, as is the case here with the horizontal lens reflecting the vertical pattern of the original, the original design continues to underpin our creation. It is this dialogue between different eras and different visions that creates a something alive and new.
Client : Groupe Cardinal
Project : Refurbishment of Architect Jean Dubuisson's project in Rocquencourt for the new AKKA Technologies Campus
Site : Parc de Rocquencourt, Rocquencourt (78), France
Status : Completed in 2023
Size : 24 000 m²
Team : Dubuisson Architecture (Lead Achitect), Setec Bâtiment (Asbestos Disposal and Dredging), RBS (Structure), VS-A (Facade), Barbanel (MEP, HVAC, Fire Safety), CEE Michel Loyeaux (Cost Consultant), Sequoia (Sustainability), Génie Acoustique (Acoustics), Viatec (Roads and Utilities), Qualiconsult (Building Inspector and Occupational Safety Coordinator)
---
Aucun projet ne correspond à votre recherche.