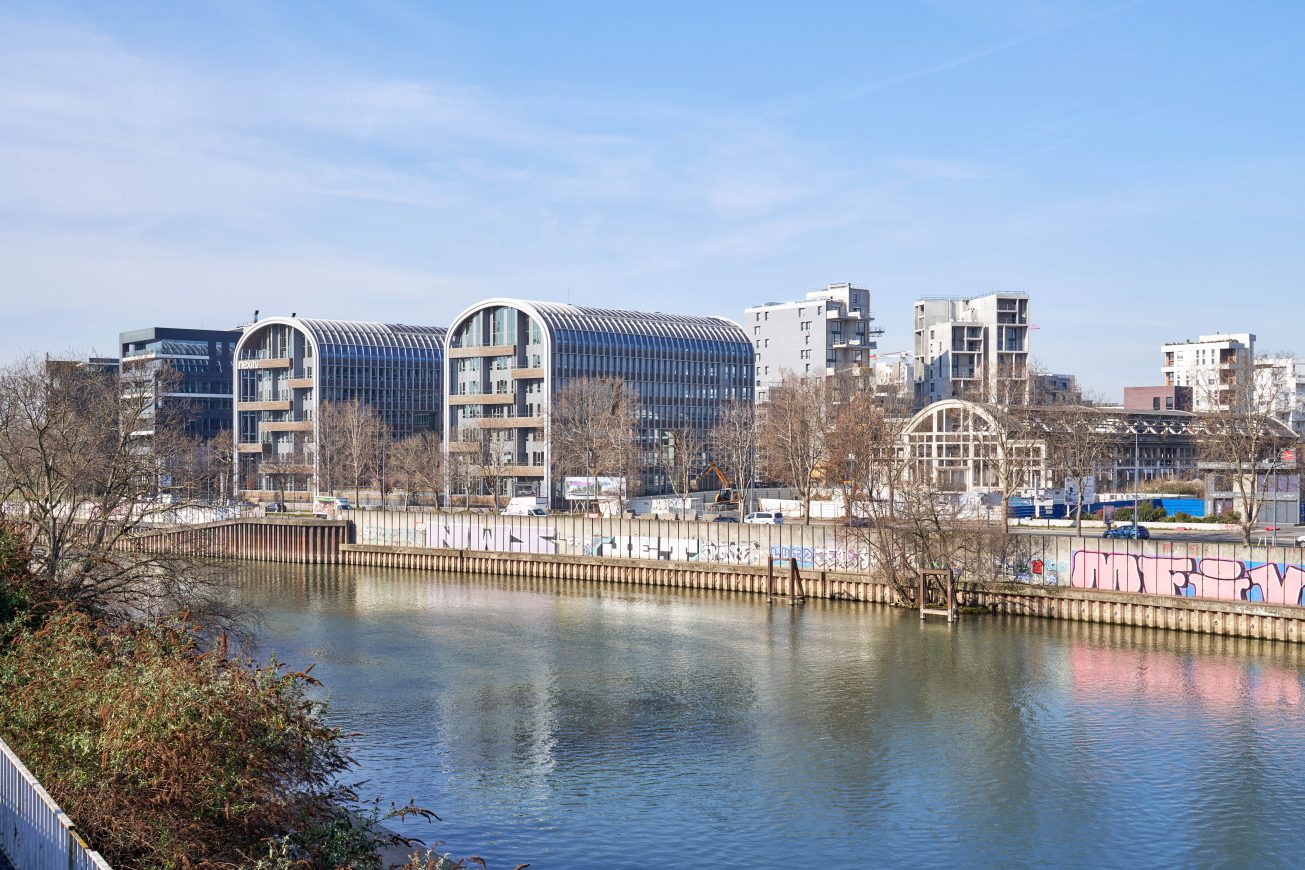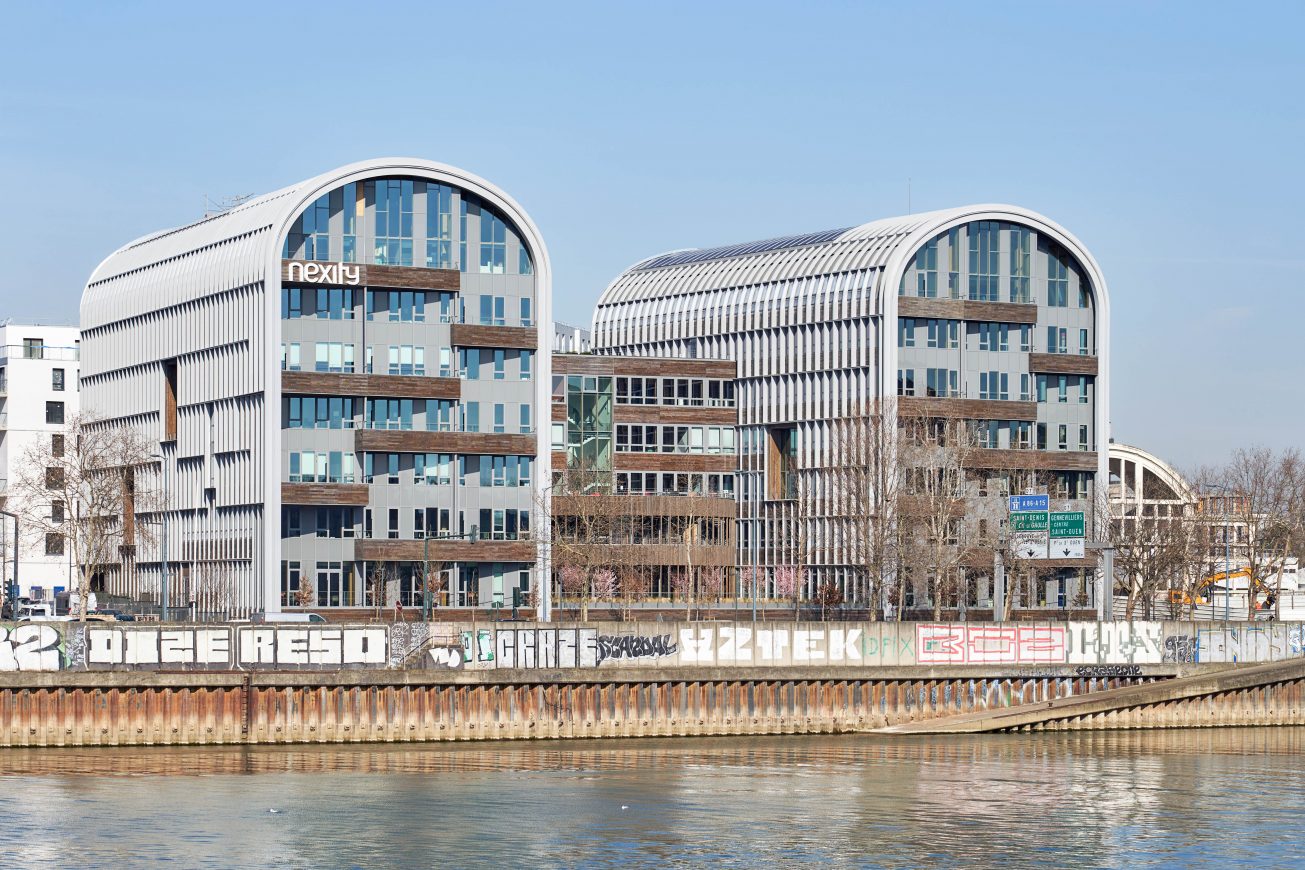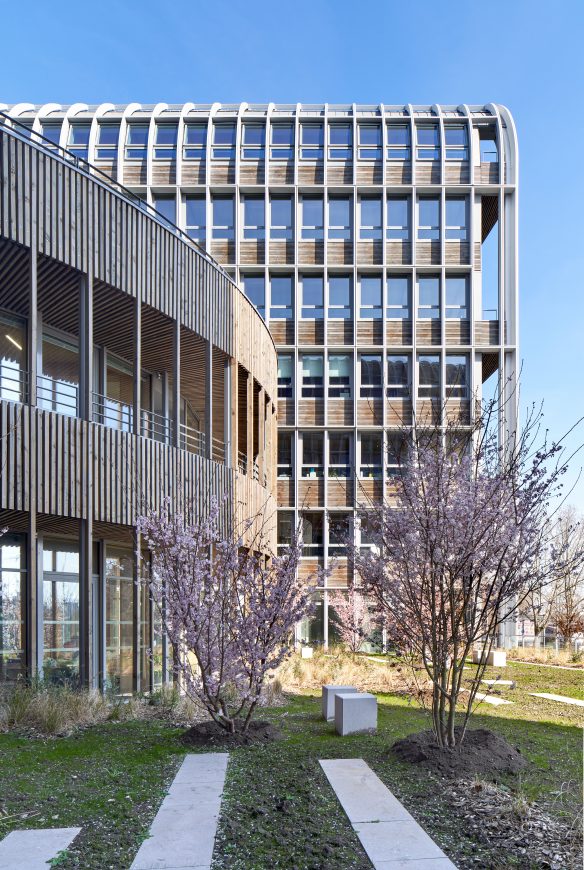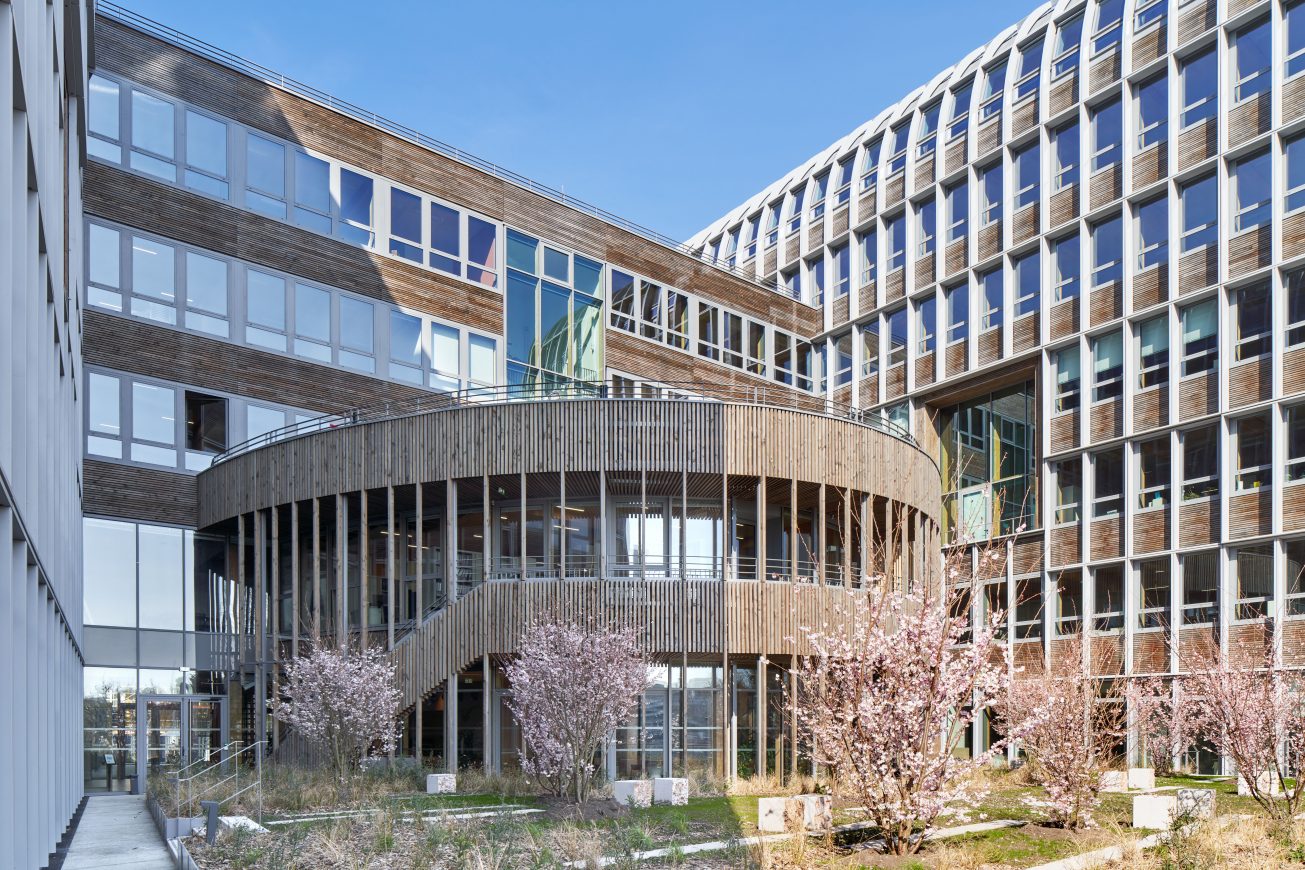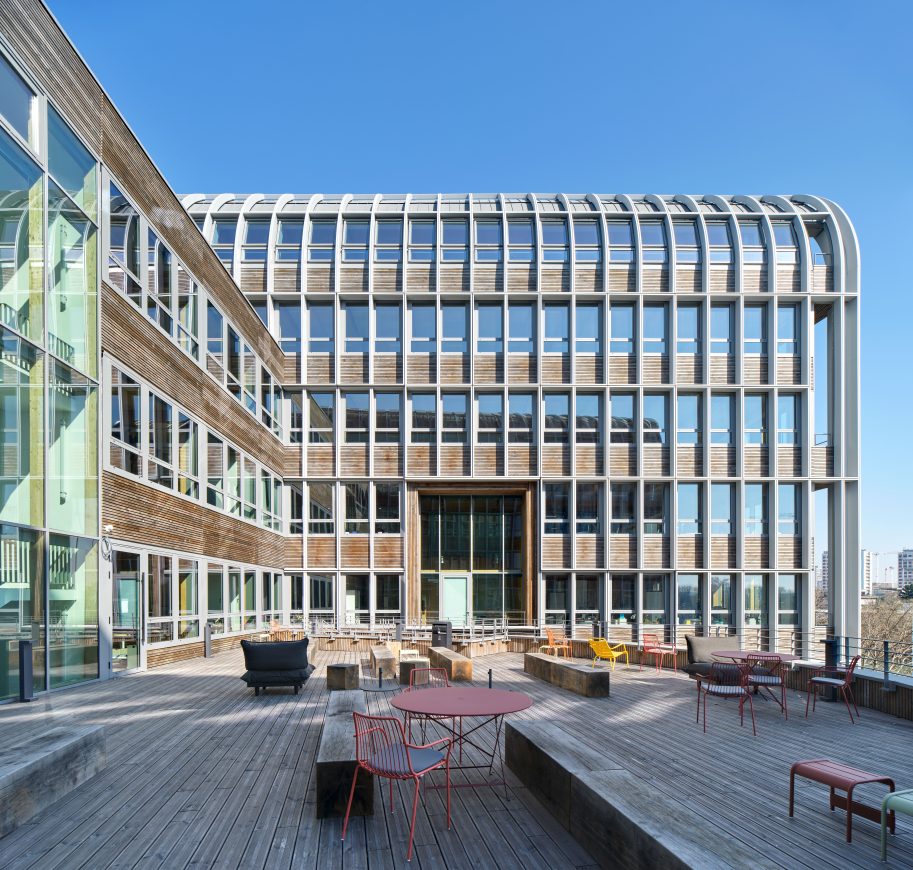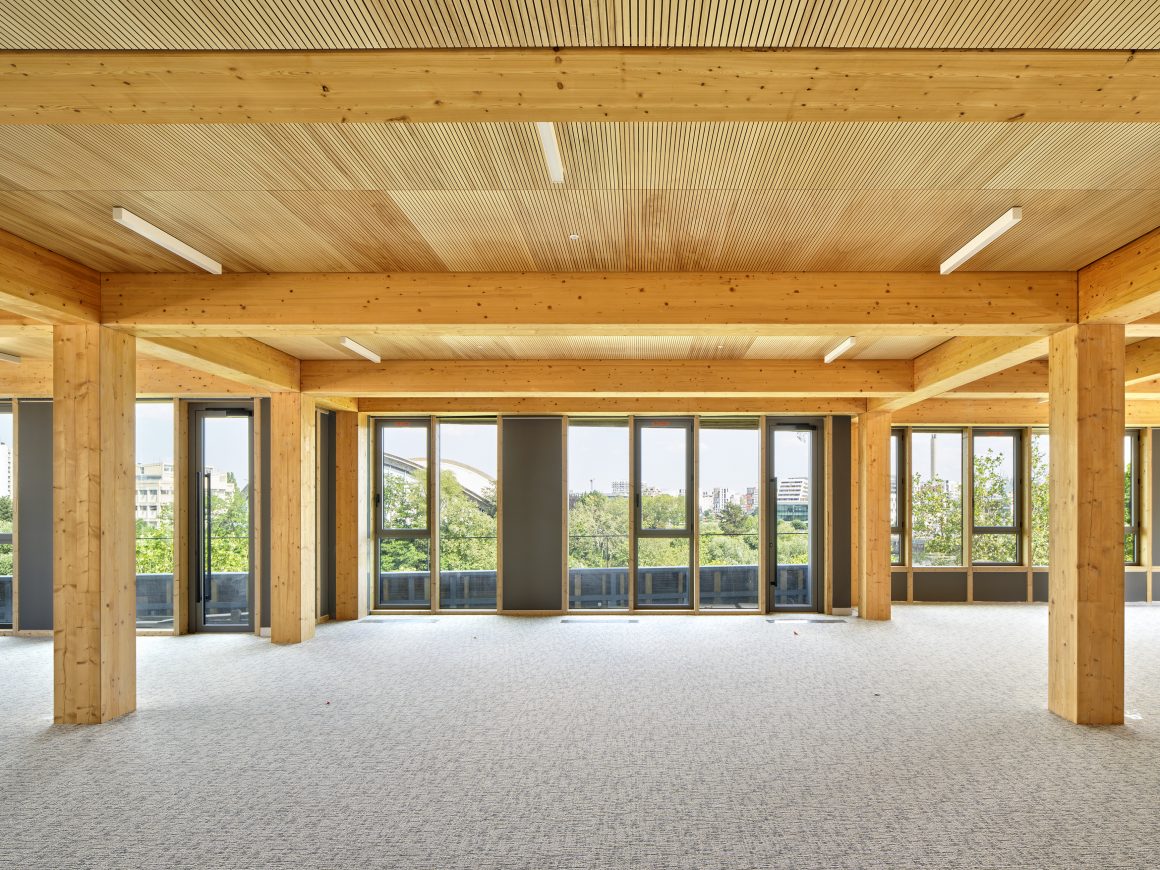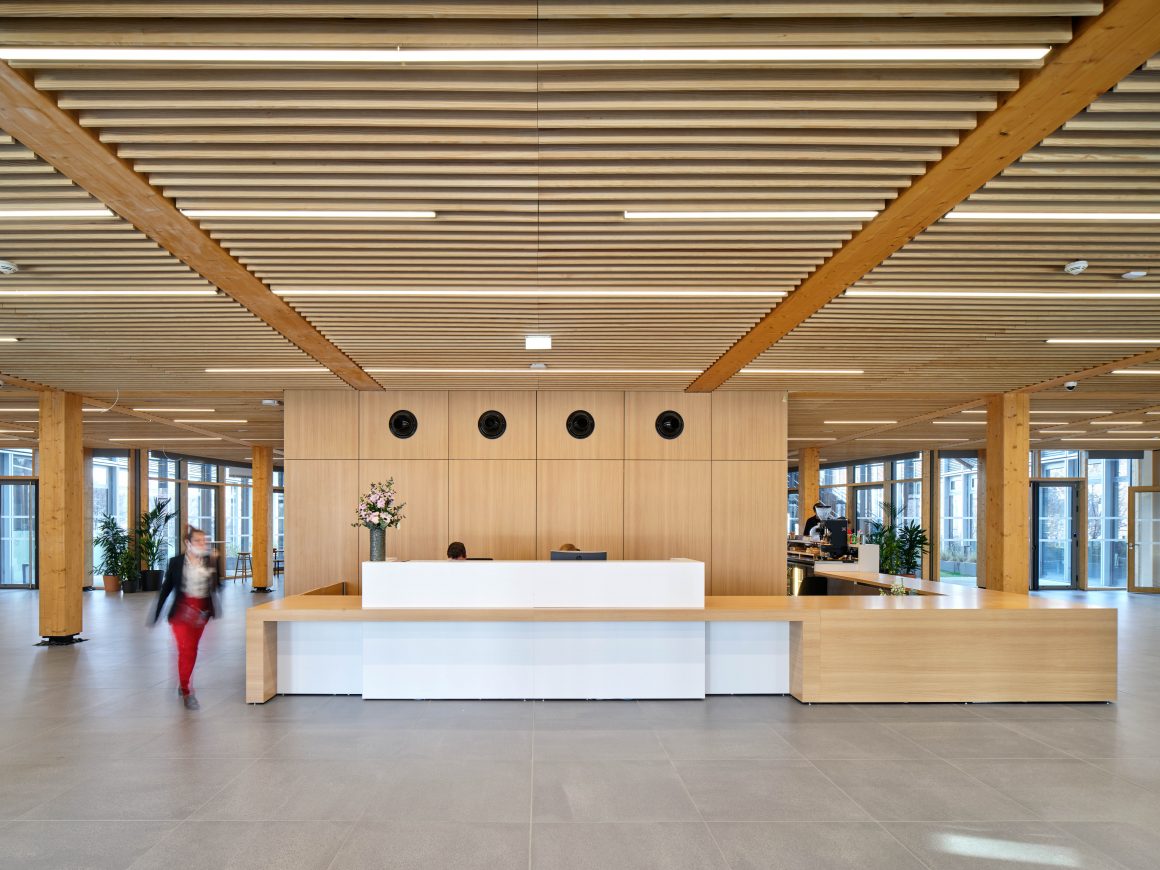 Working in partnership with the city of Asnières, the Nexity company's commercial real estate division selected us to design and build an 8-floor low-carbon building with 15,000 square metres of floor space in the Asnières PSA Joint Development Zone. This was a project with bold environmental ambitions, to be located in exceptional surroundings, with the building situated on a south-facing bank of the river Seine, looking out towards Paris.
Based on the building's position, our proposal set out to make the project a showcase for this new river front district. In order to rise to the environmental challenge at hand, and also to add our influence to the fast-paced changes already being seen in work spaces and their modes of use, we envisioned a building made entirely from wood. With its warm feel and low levels of energy consumption, equipped with all the amenities needed for tertiary use, the building was designed as a space for both living and working.
The wooden portion of the structure was designed like a basket handle, with curved lines enabling us to break from the functional appearance of traditional tertiary buildings. The building's entrance hall was designed like a hotel lobby, with the layout of the upper floors being adaptable to any type of configuration, from closed offices to shared spaces. At the top, the attic floor encapsulates a new structural vision, somewhere between a loft, artist's workshop and office space. In addition to its structural role, wood is also present throughout the interior, calling to mind the outer cladding.
The southern facade on the Seine river front, facing Paris, is completely glass-walled. In order to counterbalance the influx of light and natural temperature regulation, we designed this section as a landscape in itself, accessible to the building's users. The facade is punctuated with planted balconies and brise-soleils, as well as solar panels providing shade for the interior. Finally, the orientation and H-shape of the building help address two of its core aims: optimising access to natural light, and the possibility of renting its space out to several companies working in completely independently from one another.
For starters, this was an opportunity to continue our exploration (which began with the Clichy-Batignolles JDZ) of working spaces fully integrated into their urban surroundings, and the lives of their users. In addition, this project was an opportunity to incorporate the use of wood structures into our approach, and to deepen our expertise in several of its mechanical and aesthetic properties: resistance, ageing, etc. Finally, we also went further in terms of energy savings, absorbing new parameters into our architectural style such as the use of solar panels.
Client : Nexity
Project : Wood construction of a low-carbon office building
Site : ZAC PSA, Asnières (92), France
Status : Completed in 2021
Size : 14 732 m²
Team : Dubuisson Architecture (Lead Architect), Imogis (Architect of Record, Cost Consultant), Terrell (Facade and Structure), CCIngénierie (MEP, HVAC), Green Affair (Sustainability), Aïda (Acoustics), Atelier Format Paysage (Landscape), Audic (Roads and Utilities), Gaury (Kitchen)
---
Aucun projet ne correspond à votre recherche.